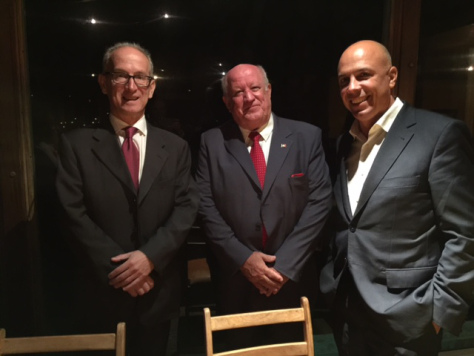 The mayor of Funchal, the capital of Portugal's autonomous region of Madeira, Dr Paulo Cafôfo, visited Walvis Bay between 13 to 14 April.
During his stay, he met the harbour town's mayor, Immanuel Wilfried, had dinner with the local Portuguese community and businessmen and toured the harbor, before leaving for South Africa. A friendship declaration with the Chamber of Walvis Bay was signed. Paulo Cafôfo was accompanied by Madeira's businessman Manuel Castro, former Mayor of Walvis Bay. He also met with the Madeiran community and visited Cadilu Fishing, owned by Ivo Gouveia and one of the largest fishing companies in Africa. The Honorable Manuel Correia, representing the Portuguese communities, was also present.
In this visit, the was accompanied by his juridical attaché Andreia Caetano and Miguel Iglesias, his office director.
Dr Domingos Azevedo, the president of the Certified Chartered Accountants Association, Roberto Ferreira, the Association's Press attaché, Manuel Vieira, director of the association and Carlos Pinto, a senior member of the association, were also present.
The Madeira daily newspaper, Diario de Noticias, was represented by its director and sub-director Jose Camara and Agostino, respectively. A senior official of the Portuguese ministry of foreign affairs, Castro Santiago, and Portuguese communities' councillor for Africa, Manuel Coelho also attended.
Source: The Namibian